Reminisce is back at The 'Bowl in 2020, counting down the Top 50 House Songs of all time, as voted by you!
Congratulations to Michael Wretham for taking out the 2 VIP Balcony Tickets for voting and sharing! Michael will be rocking it from the best view in the house.
Whilst you can't vote anymore, you can rest assured that Melbourne has voted you in an UNBELIEVABLE Top 50. Get ready, the countdown is on!
There will NOT be any more VIP tickets released. However, GA tickets still get you access to the front stalls, as well as the lawn. So there are plenty of good Reminiscing spots in GA (see sitemap below). Tickets continue to fly out the door so grab yours now to avoid missing out.
Lineup
John Course (Top 50 - Closing Set)
DJ Falcon
The Supermen Lovers
TV Rock Ft. Zoë Badwi
Market Memories
Adam Bartas
Clueless
Jay Ramon
Adam Trace
Brad Sassman
Getting you in the best possible mood for the countdown is french house maestro, Daft Punk collaborator & alumni, the man behind 'So Much Love To Give, the one-and-only, DJ Falcon.
In support is another Frenchman who is responsible for Diamonds For Her, one of the most voted Reminisce anthems of all time, none other than The Supermen Lovers.
Delivering a classics set for the ages is none other than TV ROCK, who will be sweeping through their back catalogue of 15 years of the house and electro bombs that they're most known for, with Zoë Badwi on vocals.
Read more about all Reminisce artists here
Ticketing Inclusions
General Admission
✔️ Access to all GA areas from the map below (includes front seated / stalls area)
VIP Terrace (SOLD OUT)
✨ Reminisce VIP Terrace Access (see map below)
✨ Private Bar
✨ Premium Beverage Options
✨ Priority Access To Front Stalls
✨ Priority Entry
✨ Access To All GA Areas
VIP Balcony (SOLD OUT)
✨ Reminisce VIP Balcony Access (see map below)
✨ Reminisce VIP Backroom Access
✨ Private Bar
✨ Private Toilets
✨ Premium Beverage Options
✨ Priority Access To Front Stalls
✨ Priority Entry
✨ Access To All GA Areas
👉🏽 NOTE: Both VIP Areas will be much improved on the 2019 event. We have taken all of your feedback on board and worked extremely hard to give you the premium VIP experience you deserve. This included lowering the ticket prices and removing the all-inclusive drinks package which caused long lines and people doubling up for drinks.
Sitemap
Please see below for the ticketing sitemap. A larger more detailed sitemap will be available closer to the event.
The VIP Areas are the only areas that GA ticket holders are not permitted to enter. The lawn and front stalls (seats) are free for GA ticket holders to come and go as they please.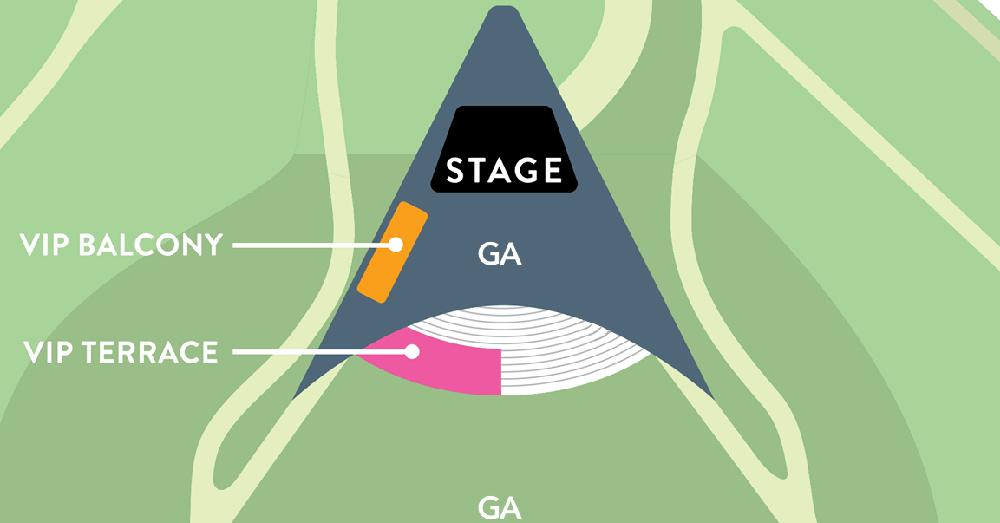 General Information
As always, we have listened to your overall feedback and have made plenty of improvements for 2020.
✔︎ The countdown will close the event, starting at 6:30 pm and finishing at 10 pm
✔︎ We'll have extra staff around the bars and toilets to ensure things are moving quicker
✔︎ We'll have an improved mix of drink options to allow for faster service
✔︎ We'll have a live audio and video feed into the VIP Balcony back area and into the bar under the hill so you can still experience the countdown whilst at the bar or going to the toilet
FAQ
Got a question for us?
Head over to our FAQ page here to see if we've already answered it.
If we haven't, head to our contact page here to send your inquiry.