We are back at The Bowl in March for another incredible day in the sunshine, counting down the top 50 house songs of all time, as voted by you!
With TIGA playing his first-ever classics set, SNEAKY SOUND SYSTEM returning to top their Reminisce 2019 show, LATE NITE TUFF GUY finally gracing our stage with a disco infused house set and JOHN COURSE delivering your top 50 house songs of all time…
PLUS a brand new 'Forgotten Classics' stage, playing only 00s house, including songs that got votes but didn't make the top 50.
+ Improvements on top 50 voting, fan comfort, ticketing and more..
Expect Reminisce 2023 to be the best yet!
Final Release Tickets
VIP tickets have sold out, there are still a few remaining Final Release tickets available so we recommend grabbing one now before it's too late 🙌🏽
Click here to get your tickets
Voting is now CLOSED! But don't worry, the top 50 is full of surprises, and classics. You do NOT want to miss this one! 💃🏼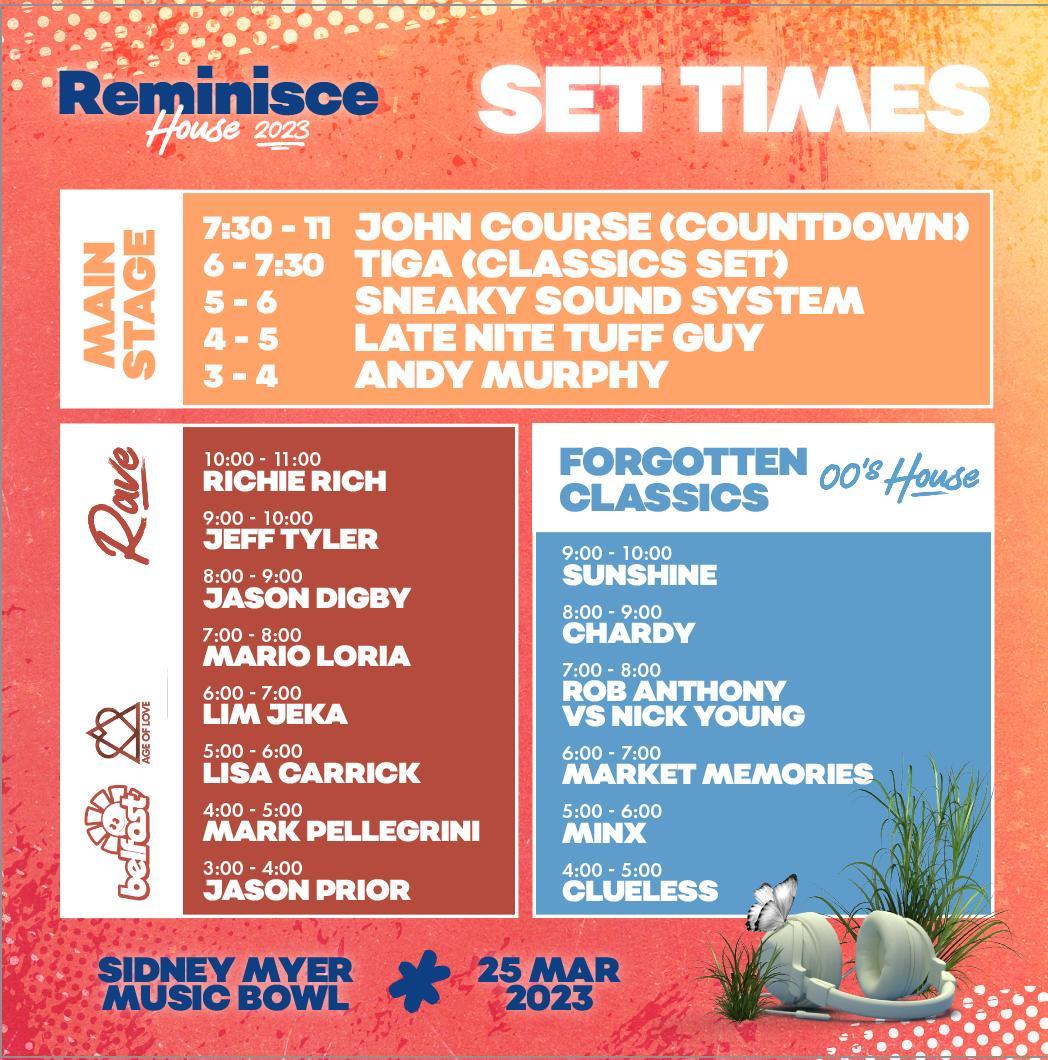 Site Map
Please familiarise yourself with toilet, bar, first aid, entry and exit locations. This map will also be up at the event.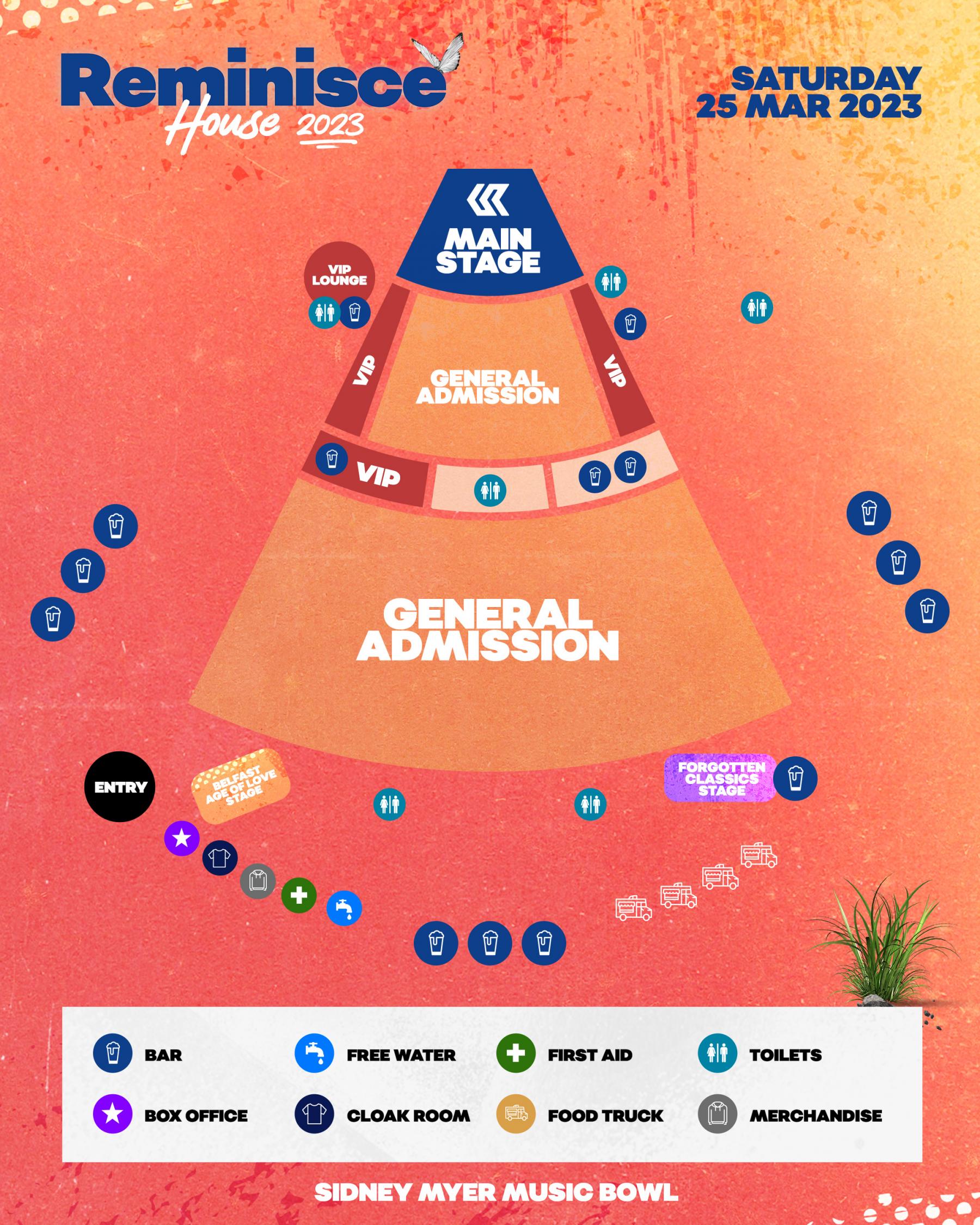 Event Information & Entry Guidelines


ARRIVE EARLY ⏰ We strongly recommend arriving as early as possible for a few reasons..
Missing Late Nite Tuff Guy and Andy Murphy's sets is a bad idea.
You have a better chance at getting a good spot in the front stalls area (all tickets have access)
You have 8 hours of Reminisce per year, why cut it short!?
TICKETS 🎟 Have these ready to go on Saturday with your valid ID.

WHAT TO BRING/LEAVE BEHIND 👛 For full entry guidelines and a list of what you can and can't bring, please see the the Arts Centre Conditions of Entry

FOOD 🌯 There will be a delicious selection of food trucks for you to choose from, covering all dietary requirements. Make sure you fuel your body as you'll be needing it with the tracks we plan to play.

CLOAKROOM 🧥 There will be a cloakroom available. See sitemap for location.

MERCHANDISE 👕 There will Reminisce merch for sale including fans, t-shirts and hoodies as well as True Faith 30 books.

SAFETY 🤝 As always, party safe and look after your mates. There will be first aid, police and an ambulance on site to keep everyone safe.

CASHLESS 💸 This event will be a cashless one so ensure you are able to tap & pay.

WEATHER 🌤 The weather gods are looking after us again, with predictions of a partly cloudy day with sunny breaks, and a zero chance of rain in the CBD. Thats what we like to see!

WATER 💦 Drink stations will be onsite for you to stay hydrated & happy.

FAQs

We have put together an extensive list of FAQs here: www.reminisce.dj/faq
Reminisce Official After Party
The Reminisce party continues with TIGA gracing the stage with a techno set + Kelly Tee, Sean Rault, April Kerry & Whitefoxx serving up a whole heap of tunes all night long.
Super limited $25+bf Early Bird tickets are on sale now.
Click here to get your tickets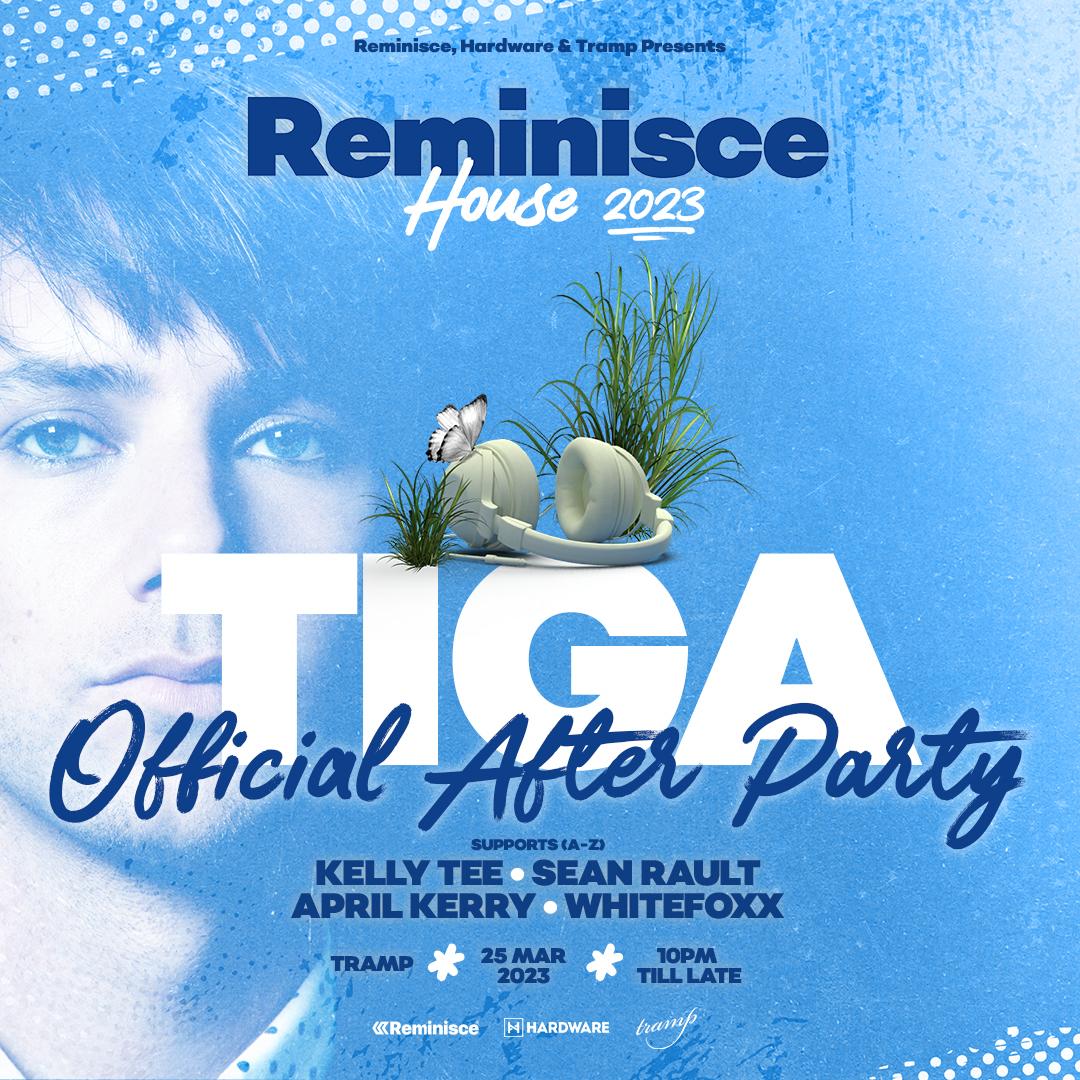 The Countdown is on!