Announcing two huge shows and more tickets available!
That's right, after a challenging 12 months it's time to celebrate music, friendship and dancing with your mates again.
On March 19 and 20, John Course will be counting down your Top 50 House songs of all time, with two separately voted countdowns.
With a massive 727 days between Reminisce's, we're putting on two shows that need to be seen to be believed.
The crowd capacity may be a little smaller, but the production is much, much bigger.
The biggest and best Reminisce shows ever to say goodbye to covid is not just what Melbourne wants, but what Melbourne needs.
So strap on your dancing shoes, it's time to etch some more memories in the history books 🥳
Important Information
Current ticket holders will receive a full refund of their existing tickets (due to the fact tickets must be purchased in groups) and will have 48 hours to re-purchase their tickets ahead of the general public.
🚨 Please note: We have a very large amount of tickets still being held from 2020, however, there will be some tickets available for the general public to purchase. We expect these to sell out immediately so make sure you're online as soon as tickets are on sale.
Ticket Holders Presale – 11 AM Wednesday, Feb 10
General Public On Sale – 11 AM Friday, Feb 12
Non-ticket holders can join the priority list and be the first to receive the ticket link on Feb 12.
Click here to join the priority list
As you most likely already know, Reminisce 2021 is part of the Live at the Bowl series of COVID-safe events at the Sidney Myer Music Bowl this summer.
The venue is set up in a way that can handle outbreaks and active cases in the community, with many events already being held there. So you can rest assured the events will be going ahead.
And after being to several of the Piknic Electronik events ourselves, we can safely say that for Reminisce, the new layout is actually better.
You guys are always asking us for more VIP options like booths and tables.
Well, now you have it!
The entire venue is set up with VIP booths and tables.
Think of it as the same as usual, but you just have your own little dance floor with friends, instead of trying to dance on a grass hill or in between seats.
You aren't confined to your space. You can move around to get drinks, visit friends, go to the bathroom, chill in the sun on the side of the hill, check out the food trucks, or whatever you like.
We've created a web page where you can capture the vibe of the new venue layout, all thanks to our friends at Piknic Electronik Melbourne.
Ticketing Options
There are now A LOT more ticketing options available 😊 As mentioned, this is a dream setup for Reminisce. You can also choose the exact position of your table or deck.
Tickets are purchased in set group numbers of 2, 4 or 6, but that doesn't mean you have to have that many people.
For example if you have a group of 5, you can just buy a deck that fits up to 6 and just have your crew of 5 in there. It just means you'll pay a little extra per person.
Please see the venue map below for all of the different ticketing options.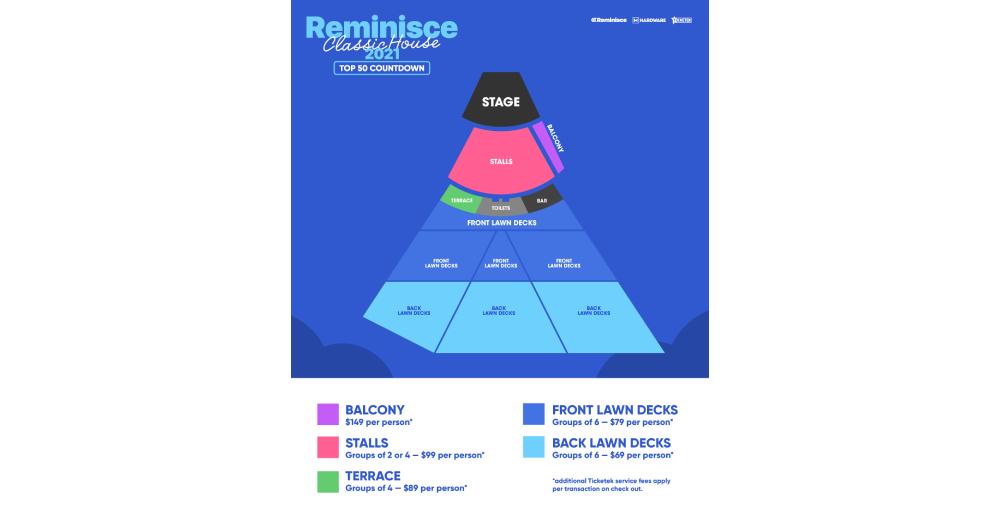 Voting
Voting will open on Feb 17 and close on March 10
Each show will have its own voting link and own countdown. This is to avoid any spoilers from those who attend the Friday show.
Priority Ticket List
Join the priority list and be the first of the general public to receive the ticket link ➔ bit.ly/rem-priority-list
(current ticket holders will receive a separate link 48 hours before)
More Information
We have put together a fairly extensive FAQ here.
Ahead of the on sale, it's a good idea to familiarise yourself with the ticket-buying process. To do this, head over to the Piknic Electronik ticket page which is currently on sale.
You'll see the interface where you can select your exact spot and purchase your tickets.
We've missed saying this.
The countdown is on!
#REM21