Reminisce Carnivále! is almost here! 🎪
Under the big top at Flemington Racecourse on December 5th, we'll be counting down the top 50 dance music records of all time, as voted by you.
Expect an explosion of colour, craziness, mind-blowing production, performers, artists, food trucks, and of course – the best tunes you'll hear all year.
This is going to be a once in a lifetime experience being the first big event back after lockdown.
Every single person dancing, singing, celebrating as one for having our livelihoods back.
The energy is going be at fever pitch, made even crazier with the madness of the Reminisce Carnivàle show we are putting on.
The planets have truly aligned to create the perfect Reminisce storm 🎪 🎉
Read below for full info on the event, ticket prices and inclusions, FAQ, voting info, key dates and more!
As only he can, the king John Course will deliver the Top 50 countdown.
The Presets are bringing their FULL live show, with a face-melting energy and a set list to match, trawling through their entire back catalogue of hits.
Northeast Party House will also be bringing their electrifying live show, with Generik and Tom Evans tearing through their back catalogue all the way from the last 20 years in Melbourne house music.
Read more about our artists here
TICKETS
Presale: $69.95+bf (SOLD OUT)
First Release: $79.95+bf (SOLD OUT)
Second Release: $89.95+bf (SOLD OUT)
Final Release: $99.95+bf (ALMOST GONE)
Electric VIP: $199.95+bf (SOLD OUT)
VOTING
Voting is now closed so if you've voted well done, if not don't stress! We can absolutely guarantee you the top 50 is amazing!
You can listen to the voting shortlist on Spotify or the live top 50 countdown set from March this year to get you pumped for the countdown 🚀
SET TIMES
Find the set times for the day below!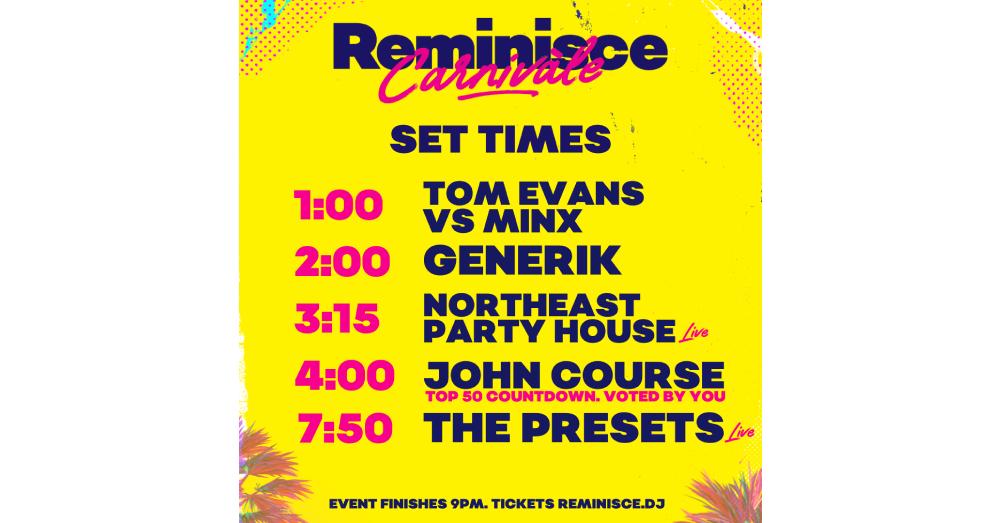 TRANSPORT
Public Transport
Metro Trains and Yarra Trams are providing additional / special services for the event.
Metro Trains will run the following services (IMPORTANT: All times are currently approximate, final times TBA once we get word from PTV):
Trains are to operate a service from Southern Cross (Platform 8), stopping at North Melbourne (Platform 2), then express to the Racecourse (Platform 1).
Return services from the Racecourse will stop at North Melbourne (Platform 1), en route to Southern Cross.
Commencing from 12:40pm, provide a 20-minute service from Southern Cross to the Racecourse.
Commencing from 9:00pm, provide a 10-minute service until 10:00pm, from the Racecourse to Southern Cross.
Then the final service from the Racecourse will depart at 10:20pm.
All Racecourse services will arrive and leave for Platform 1 only.Yarra Trams will be scheduling for additional services along Tram route 57 from Elizabeth St / Flinders Street to Epsom Rd / Flemington Racecourse tram stop. Times of additional will be confirmed asap.

Uber / Taxi / Rideshare
There will be a pickup / drop off point near the entrance. Entry is from the main driveway coming off on Epsom road.
WANT TO KNOW MORE ABOUT REMINISCE?
Have a look at this link to find out more.
FACEBOOK EVENT
Follow this link to check out the Facebook event. Don't forget to RSVP to keep up with the latest news!
MORE QUESTIONS?
Check out our FAQ Here
The Countdown is on! 🎵💃🏼🙌🏼🎪
Team Reminisce
Get Your Tickets Here