Reminisce Classic House is BACK in 2021 with John Course counting down the Top 50 Classic House tracks of all time as voted by you as well as special guests Feenixpawl feat. Zoe Badwi, Market Memories & Andy Murphy at the Sidney Myer Music Bowl on the 19th and 20th of March 2021.
If you've never experienced a Reminisce event put simply, it's a countdown of the 50 best house songs of all time.
All selected by the people who attend the event, via our unique voting system.
Throughout the voting process, you trawl through our list of 500 house songs, listen to them on the way if you like, and create your own shortlist. You can even add your own songs if they aren't on the list.
Once you've selected your shortlist, you then trim it down to your top 5 and then place them in order, then submit your votes.
On the day, the songs are then played in a Top 50 countdown, starting at number 50 and counting down to the coveted number 1 song.
So in essence, Reminisce is all about Reminiscing the best days of your life, where all that mattered was the weekend or the next festival – whether that was 5, 10 or 15 years ago.
So how do you get Tickets?
Tickets are extremely limited we have a handful left for the Saturday and Friday events as we had to configure the venue in a specific arrangement (pods & decks) to ensure a COVID-19 safe environment for our guests.
Tickets can be purchased from this link.
Below is an image of the venue map where you are purchasing your tickets: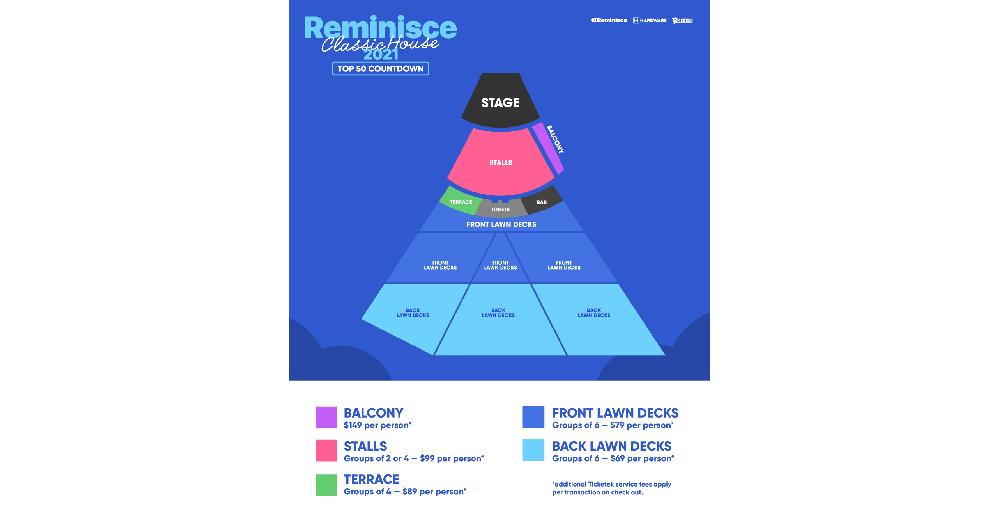 Here are a few important tips:
We recommend purchasing on a desktop/laptop because the small screen on mobile can make it difficult to see the small spots marked out on the screen.
To purchase more than one deck or table, select ONE from the dropdown and head through to the payment page, but before you check out click ADD TICKETS to go back and purchase another
You aren't confined to your private deck. You can move around to get drinks, visit friends, go to the bathroom, chill in the sun on the side of the hill, check out the food trucks, or whatever you like.
Think of it as the same as usual, you just have your own private dance floor for when you are at your spot. There are also fold-up chairs and drink holders on each deck if you want to use them
Any questions feel free to reach us on the contact form located here.
The Countdown is on!