The big dance is rapidly approaching, and with that comes a flood of ticketing inquiries - so we thought we'd put all the information in one place for you. There's some really important information you need to know including:
Current Ticket availability (VIP & GA)
Why you should NEVER buy tickets from Viagogo
✔️Do's & ✖️Don'ts of buying & selling second hand tickets
Ticket Availability
General Admission
We are fully Sold Out of our first 3 releases of General Admission tickets ($70 pre-sale, $85 first release, $95 second release). Final Release tickets are on sale now, but selling fast.
Grab yours from this link to ensure your spot on the hill, or in the stalls!
VIP
We are getting a ton of inquiries about more VIP tickets being released, therefore we need to reiterate that there will be NO MORE VIP tickets available.
If you missed out on VIP tickets, don't despair! One of the best things about the bowl is that no matter where you are, you get a great view of the action with plenty of room to dance.
The other thing to point out is that we're only operating 1 stage, meaning toilet and bar lines will be free-flowing. There will be a GA bar ALL the way along the top of the hill and also on the right GA Terrace. There are toilets down in the stalls and also behind the hill.
In short, we got you!
Viagogo
Do not under any circumstances purchase Reminisce tickets from Viagogo.
They are selling tickets at inflated prices, with false statements about tickets on their website.
They are running Google Search Ads to advertise their tickets, meaning it's very easy to confuse the links with the correct ones. See examples below: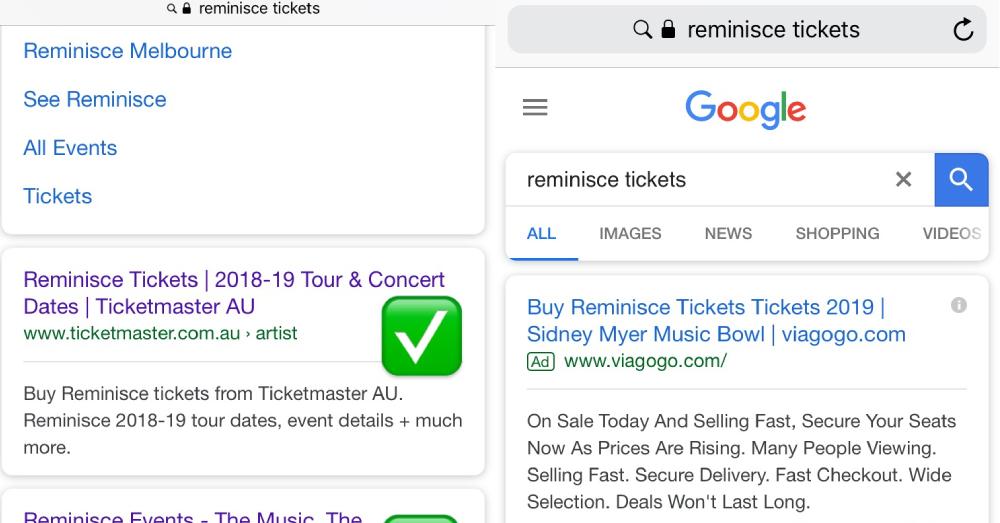 If you or your friends are thinking of purchasing tickets, please follow the guidelines above when doing so. We want to ensure everyone pays the correct price for their tickets, however, we do not have the ability to assist you if you purchase tickets from an unauthorized seller like Viagogo.
✖️✔️ Buying & Selling Secondhand Tickets
The fight against ticket scalping has come a long way over the past few years, especially since the introduction of official re-selling sites like Tixel which is our authorized reseller.
However, despite all the improvements, there are still untrustworthy people out there, selling tickets that are fake, that doesn't exist, or that they plan to still use after they sell them to you.
With that in mind, here are our guidelines, tips & best advice for buying and selling tickets.
Do not post in the Facebook Event invite about buying or selling tickets, as these posts will not be approved. Tixel has its own marketplace you can buy and sell from.
If you're a buyer, don't buy a ticket unless it's through Tixel. If someone has a ticket they want to sell you, get them to upload it to Tixel first. Tixel's technology detects fake tickets, verifies people's identity and they also cover the cost of your ticket on the very slight chance that something goes wrong (see T&Cs for details).
If you're a seller, you guessed it - use Tixel to sell your ticket.
And that's it! If you have any more event-related questions, please see our FAQ here.
The countdown is on!