Date
Sunday 5TH December, Flemington Racecourse
Running Time
The running time of Reminisce Carnivàle on Sunday 5TH December is from 1pm to 9pm.
Lockout at 8:00pm, which means no entry is permitted into the venue after this time.
Set Times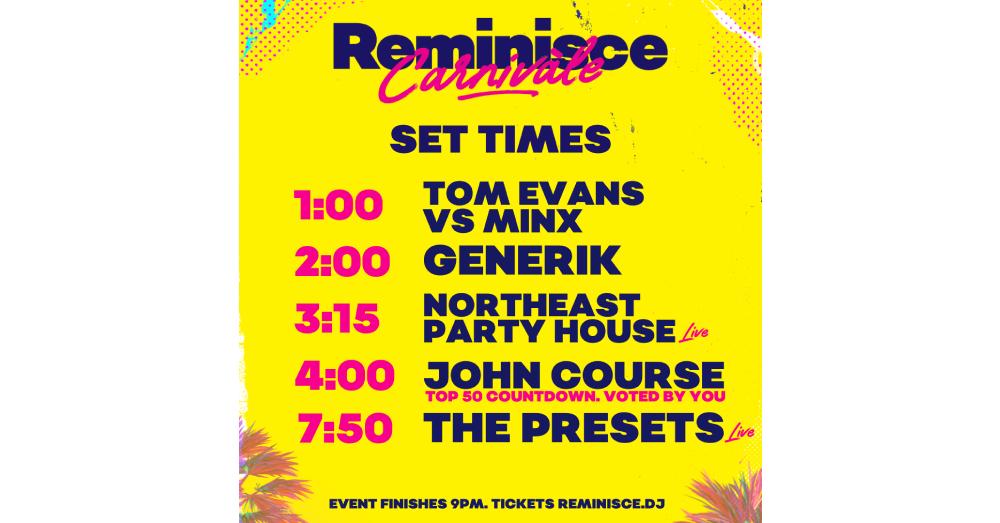 Venue Map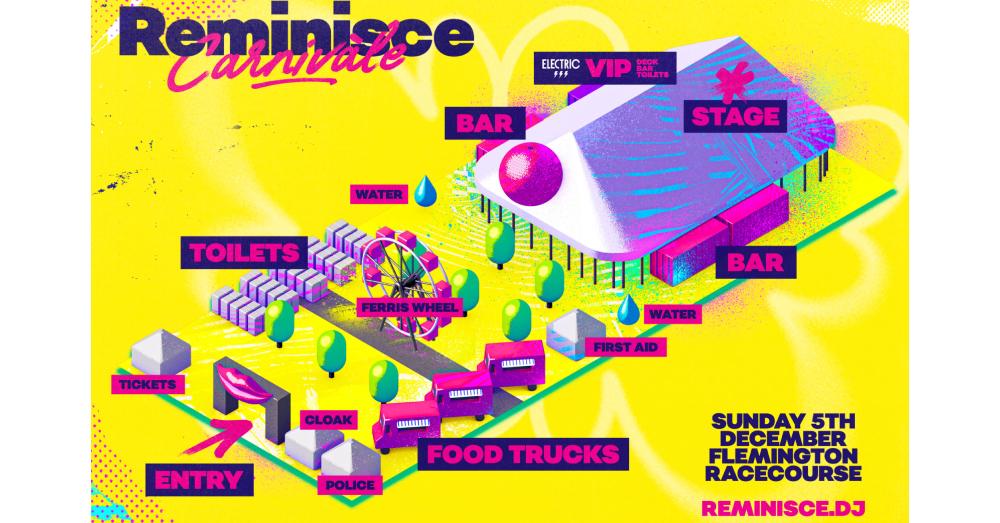 Social Media
Share your moments on Facebook, Instagram & Twitter with the official hashtag #RemCarnivale.
Reminisce Carnivàle Event Page
Promoter Contact;
Reminisce Entertainment & Hardware Group
Email; [email protected]
Facebook; Message here. Instagram; Message here.
Celebrate Safe
We know that Reminisce Carnivàle will be the first event many have attended since the pandemic or may even be many people's first event ever, so we would like to share some important safety information with you to be familiar of, to ensure your Reminisce Carnivàle experience is one that you will remember forever.
Look Out For Your Mates
Travel with your friends to and from the event.
Look out for your friends and those around you.
Checking in with your friends & ensuring they are hydrated goes a long way.
Have an allocated meeting point – in case someone gets lost or your phone battery dies.
No picnicking or sitting on the dance floor. You can injure yourself and others.
Personal Care
Take breaks from dancing to chill out, have water & eat throughout the event.
If you are feeling unwell, seek medical treatment.
Know your surroundings - be familiar with first aid, hydration stations & venue facilities.
Be smart, be safe & be a legend.
Most importantly – HAVE FUN!
Hydration
Hydrate! Hydrate! Hydrate!
Drink water regularly.
Use the free water stations.
First Aid
Help us to help you!
Be familiar where the first aid tent is.
Don't be scared to seek help.
First aid staff are not there to judge, they are there to help you.
Help anyone out if they look unwell & guide them to first aid assistance
GENERAL TERMS OF ENTRY
Upon Entry
This is an over 18s Event (18+ only). This event is licensed with alcohol.
Entry with valid ticket only and valid photo ID. NO EXCEPTIONS!
Photo ID permissible: Australian Drivers License, Australian Proof of Age Card, Keypass card or International Passport ONLY. Photocopied, screen shots, invalid or scanned images of ID will be not be accepted
Licensee (Venue) reserves statutory right to refuse patrons on entry.
You must check in using the Services VIC App.
Lockout at 8pm so please ensure you arrive at least 15 minutes prior to the entry closure. Guests who do not arrive on time for the 8pm lock out will not be eligible for a refund.
There are strictly NO PASSOUTS (exit & re-entry) for this event.
Names on softcopy tickets (online tickets) must match patrons ID
Any patrons intoxicated or under the influence of drugs will not be admitted
There will be a Police and PAD Dog operation in progress.
Have fun! Look after your mates and don't be a dickhead!
Prohibited Items
Patrons in possession of items prohibited by the Venue will be required to surrender them or return the item to their vehicle depending on the item. If found inside venue with a prohibited item you may be evicted.
NO audio or video recording devices including Professional photography equipment and go-pros. Mobile phones are obviously allowed.
NO backpacks
NO bags larger than 30cm x 30cm
NO drinks or food items permitted
NO equipment capable of producing open flames such as flares, sparklers, pyrotechnics and fireworks. Cigarette lighters are okay.
NO glass or metal objects, including bottles or cans, drink containers and plastic bottles
NO illegal substances or alcohol to be brought on site
NO laser pens, glow-sticks, totems or helium balloons (glow gloves are permitted but will be inspected upon entry)
NO liquids permitted on site, including alcohol, perfumes, creams, eye drops, hand sanitizers. There are sanitizer stations all over site. Sunscreen is not allowed to be brought in but is available at the big first aid tent on the right hand site of the site, just on the back corner of the main tent.
NO full face masks permitted. Faces must be visible at all times. PPE masks are acceptable. Carnivale masks are acceptible.
NO nasal spray inhalers such as Vicks inhalers
NO Pets or animals (excluding aid dogs)
NO promotional material including stickers and flyers
NO umbrellas
NO Weapons or items that may be used in a dangerous manner or cause injury to other Patrons such as selfie sticks, totem poles, banner sticks etc...
NO whipped cream dispensers and chargers
Cigarette packets, chewing gum & lollipops are permitted but MUST BE SEALED!
Right To Refuse Entry
Security staff and police are entitled to search, pat down or metal detect any patron upon entry. Any person not compliant will be refused entry or removed from the event without refund. We reserve the right to refuse access to the event or remove patrons from the event, without refund;
Any person behaving in an antisocial, intoxicated, disorderly, aggressive, offensive or dangerous manner or in any manner which may threaten security or smooth operation of the Event
Any person clearly under the influence of alcohol, drugs or any other stimulant.
Any person from unauthorized media outlets.
Any person in possession of a Prohibited Item (defined above)
Any Person that has been banned from events before, imposed by either Reminisce or the administrative, legal or police governing bodies.
Any person that Illustrates behaviour which intends to disturb public peace or to provoke assault.
Any person that Intentionally attempts to conceal prohibited items with the intent to bypass security screening.
Any person that is detected with illegal substances by a police sniffer dog
Any person wearing gang related colours, badges or tattoos
Any person who attempts to resemble or impersonate any authorised media personnel, authorised emergency services personnel or staff member, agent or invitee of the Promoter
Any person who attends the Event with the intention of reporting to the media and has not received the Promoter's prior written permission to do so
Any person who is found in an Unauthorised Area (defined below);
Any person who otherwise breaches these Terms and Conditions
Any person who refuses to comply with a direction from security personnel or staff of the Promoter; and
Any person without Valid ID or a Valid Ticket
Policy Regarding The Carriage Of Prescribed Medicines
To ensure that illicit or potentially dangerous substances are not brought onto site under the guise of legitimate medical need, the following measures are to be enforced.
Ensure the medicine is in its original container, with the dispensary sticker and issued in the name of the ticket-holder. DON'T peel the label off or carry someone else's medication
Bring the official prescription or a letter of explanation from a registered medical practitioner
Ensure the quantity carried is the minimal required for duration on site
DON'T bring non-essential tablets such as vitamin supplements
Be prepared to be questioned at the Gate or in the event but do not seek to conceal medication
Contact the Event in advance if the medication is vital to health and wellbeing to ensure that you remain safe and well
Be aware that a reputable medical service is available onsite
Safe Storage. In some instances, safe storage of medication can be arranged through the onsite medical service (including temperature controlled storage). NO storage will be provided at the Gate.
Confiscation. The Event Security reserves the right to refuse access to patrons carrying substances which cannot be confirmed as being bona fide prescribed medication. In such instances gate staff may require that medicines be surrendered at the gate or returned to a vehicle or similar.
Additional Entry Notices
Checking In / Vaccination
You must provide proof of your vaccination status or exemption.
Double vaccination against COVID-19 is a condition of entry to Reminisce as mandated by the Victorian Government.
From 6pm on 12 November, you can no longer use a medical certificate as evidence of COVID-19 vaccination exemption.
If you are unable to get any of the approved COVID-19 vaccines for medical reasons, your doctor
needs to update your record on the Australian Immunisation Register to show that you have a medical exemption.
Once your exemption has been processed, you can download your COVID-19 digital certificate exemption and add that to your Services Victoria APP, for use when you check in using Victorian Government QR Code Service.
A paper copy of your Immunisation Register will not be acceptable for entry to Reminisce.
Every single patron on entry, must provide photo ID and they must scan in to the event using the Services Victoria APP with their vaccination status uploaded to the APP.
Drug & Alcohol Policy
Reminisce has a zero tolerance policy regarding the use of illicit substances.
The possession, sale or use of illegal drugs or illicit substances is strictly prohibited.
The Promoter does not condone or endorse the use of such substances and any patron found with them in their possession will be refused entry and removed from the Event Site and may be reported to the relevant authorities.
Police sniffer dogs will be present at the event.
ID
Photo ID permissible:
Australian Drivers License
Australian Proof of Age Card
Keypass Card
International Passport ONLY.
Photocopied, screenshots, invalid or scanned images of ID will not be accepted.
Liability
Reminisce and the Venue shall not be held liable for any loss, injury or damages sustained entering or within the premises. Reminisce will not be held liable for any hearing damage or loss.
Use earplugs if necessary. Reminisce accepts no responsibility for patron's actions.
Masks Policy
NO full face masks permitted. Faces must be visible at all times. PPE masks conforming to Vic Health COVID Safe guidelines are acceptable.
Media
Only authorised and fully accredited media approved by the Marketing and Publicity departments are permitted at Reminisce events. Any media or persons found to be carrying media equipment (microphones, recording devices, camera etc) or deliberately deceiving staff will be removed and banned from Reminisce events for an indefinite period.
Photos & Videos
To capture all the special moments of Reminisce, you may use your mobile phones. Professional cameras (with interchangeable lenses) and video cameras are NOT ALLOWED.
Selfie sticks, compact cameras and GoPros are also NOT ALLOWED.
You will be filmed at this event for promotional and security reasons. All footage taken on any device remains strictly ownership of the promoter. Publishing of any content forbidden
Police Operation
Police sniffer dogs are a regular at our events, so ensure you don't bring anything illegal. If the sniffer dogs detect illegal substances, you will be further searched by police. This will result in eviction from the event or legal prosecution. If you are evicted from the event, you will not be allowed re-entry.
Safety
Seating is provided outside the tent near the food vendors. DO NOT sit on the floor in the tent as it is a safety issue.
Smoking
Smoking & vaping is prohibited inside the tent. Patrons caught smoking inside, will be evicted from the venue.
Sound Levels
To protect your hearing from loud sound levels, it's strongly advised to wear party-earplugs.
Special Effects Caution
The show contains special effects including strobe lighting, lasers, haze and pyrotechnics. Please note, if you are prone to epileptic seizures, high intensity strobing and effects will be used throughout the event
EVENT AMENITIES, FACILITIES & SERVICES
Accessibility & Mobility Impaired Policy Flemington Racecourse is fully accessible.
A dedicated entry lane will be available to those in possession of a Companion Card. Dedicated toilets will also be available at the event.
Box Office
The box office is located outside the entry point.
Please refer to site map for location.
Cloak Room
There are charged cloaking facilities at the event. Cloak is inside the perimeter fence, prohibited items will be confiscated by security and destroyed. Reminisce does not take responsibility for any cloaked items.
Please refer to site map for location.
First Aid
Please familiarise yourself with First Aid locations. If you or a friend, are feeling unwell, see First Aid immediately.
Please refer to site map for location & make yourself aware of them upon entry to the event.
Food & Drink
A wide selection of food vans & non-alcoholic drinks can be found outside the tent.
Getting To Flemington Racecourse
Extra public transport services are running to and from Reminisce Carnivàle Music Festival at Flemington Racecourse on Sunday 5 December 2021.
Please click here for a full list of services available.
Lost Property
For any lost and found items, head to the cloakroom.
Please email [email protected] after the event if you have lost any items
Parking
Limited On-site parking is available at the Nursery.
Ticketing Support
Tickets for Reminisce Carnivàle have already been sent out! All name changes can be completed by logging into your Ticketbooth account.
We cannot confirm the legitimacy of a second hand ticket. Never buy off websites such as Viagogo, Gumtree, Facebook Marketplace etc. Never buy off someone you don't know as you risk being scammed.
Any ticket related questions, please contact Ticketbooth directly;
Water Stations
Free water stations will be located throughout the venue.
Make sure you keep hydrated, take regular breaks and look out for one another.
Haven't Found What You're Looking For?
If you have another question, and you can't find the answer on this page, please send an e-mail to [email protected]